When Kim Kardashian tweeted about the hit podcast Serial, the Internet was quick to ridicule her. She only found out about the show in 2018 – roughly 4 years after the first episode was released.
But you know what? Good for her! There's nothing wrong with getting into things late. For instance, if you wanted to start a podcast of your own, you'd be surprised to hear that it's been a massive industry for the last few years.
So that's the good news: there are tons of ways to start a podcast completely by yourself these days.
Now, the downside: starting a new podcast is probably a bit more confusing than it was a few years ago.
While the technology is easier to use and more affordable than ever, you'll have to spend a few days comparing the dozens of offers from companies who all promise to help you record, edit, launch, and monetize your successful online radio show. New ones pop up every day, it seems.
So today, we'll be looking at an important decision you can make right away: which podcast hosting sites should you consider?
What is a Podcast Hosting Platform?
Think about how you listen to your podcasts. You probably get them from iTunes, Google Play, Spotify or any podcast app. Maybe you stream them directly on the podcast websites. Either way, these aren't the hosting solutions, but rather the directories. Think of them as shop assistants that point you to the right aisle.
Enter podcast hosting platforms.
They are the "shelves" where you can put your "inventory", in the form of audio files. Some of these shelves offer more features than others. And of course, the prices vary greatly depending on how nice they are.
Why Can't I Host the Files on My Website?
Actually, it's possible. But audio files can require a lot of storage space and bandwidth to be streamed. Having tons of listeners at once could push your plan over the limit – or simply prevent your website from functioning properly.
So if your podcast gets popular and you get hundreds of listeners, you'll need a high-end performing hosting service to handle this.
Then there's the issue of distributing your podcast. If you host it on a website that nobody lands on, what's the point?
Podcast hosting services aim to kill two birds with one stone. They let you store and stream the audio files, and give you all the features you need to reach your audience.
What Kind of Price and Features Should I Look For?
Short answer: it depends. The thing with podcasting is that it's still a bit of a wild west. Maybe you have a professionally recorded, edited and highly polished product. Maybe it's just a DIY recording of you rambling to your iPhone.
The point is, that there is no one-size-fits-all. A good podcast hosting solution should only really do three things:
Host your audio file
Create an RSS link so people can subscribe to it
Be reliable and offer good bandwidth so listeners can stream seamlessly
But now that podcasting is evolving, you'll find tons of extra features. These will include:
Ability to embed your podcast player on a website
Easy to use /customizable player
Push to iTunes, TuneIn, Spotify etc…
Monetization options
Upfront costs and billing
Podcast metadata (title, artwork, category etc.)
Analytics
Listen offline / download option
Good marketing options
And please, please, as with any digital content, do read the small print. Especially for free offers that seem too good to be true. Remember that if you don't pay for the product, you are the product – whether it's by letting the hosting platform monetize your data, or infringe on your copyrights.
Overview of the Best Podcast Hosting Platforms
Buzzsprout: Growing Through Simplicity
Buzzsprout has been going since 2009, and they now have 100,000 podcasting users. Their core focus seems to be on creating a smooth experience for new podcasters. Their interface is easy to use and intuitive. The submission to iTunes or Spotify is done via clear step by step guides. The stats are easy to understand. You can use their free site or link to a WordPress website for more control.
Buzzsprout Pricing
Free: up to 2 hours of audio. No ads, but the episodes are deleted after 90 days.

$12 per month: 3 hours of audio per month. Unlimited bandwidth. You can add more content at $4 per hour.
$18 per month: up to 6 hours of audio. Add more for $3 per hour.

$24 per month. Up to 12 hours each month. Add more for $2 per hour.
Buzzsprout Pros
Good customer support
Super easy to use
Distribute to major directories
Buzzsprout Cons
Free plans deletes your files after 90 days
Free Buzzsprout podcast page lacking options
Buzzsprout Notes
Buzzsprout really looks good for beginners. We like that the plans are based on audio hours, not gigabytes. However, if your podcast becomes huge, or you are already fairly reputable, it seems everyone agrees Libsyn is a better destination. Some minor nitpicks include the fact that Buzzsprout converts your audio files, and that the free plan deletes your files after 90 days.
Since I last looked at Buzzsprout, they have added a number of interesting paid features, such as the ability to get your episodes transcribed for $0.25 / minute. They also offer "Magic Mastering", which, in their own words, is like an Instagram filter for audio. In short, it optimizes audio compression and levels to match the best practices for each platform (Apple Podcast is particularly picky about it). It costs $6 – 12 a month depending on your plan (not available on the free plan).
The standard features have also been given a nice polish, with a brand new embedded player, an updated text editor for the show notes, and the ability to mark chapters, amongst others. This all proves that the company keeps growing and looking after its users, so still a highly recommended platform.
> More information: www.buzzsprout.com (receive a $20 gift card from Amazon when you sign up for a paid plan)
Captivate: Focused on Growing Your Audience
Captivate was built by podcast industry veterans Rebel Base Media and Podcast Websites. And the expertise and knowledge these folks have put into their platform is obvious from the start.
In fact, Captivate could be one of the best-designed podcasting solutions out there. The dashboard is super intuitive, with clear yet thorough statistics. There are tons of tooltips for beginners on things like bitrate, advanced statistics, and publishing options.
It's also very easy to integrate the players into the complimentary free website, or your own WordPress site thanks to their dedicated plugin. You can even import all your libraries in a few clicks from other platforms.
If you want to learn more about the company, Rebel Base Media have their own podcasts about podcasts…  So you can listen to industry news, business insights, and tips and tricks on how to grow your audience. Plus, you get to see the superb Captivate player in action.
Captivate Pricing
Podcaster plan: $19 / month, 12,000 downloads per month
Audio Influencer: $49 / month, 60,000 downloads per month
Podcast Brand: $99 / month, 150,000 downloads per month
Captivate Pros
Superb-looking player
No changes made to files
Very easy to use
Captivate Cons
Pricier than some competitors
Captivate Notes
When I first wrote about Captivate, it was still in its early stages, but we can now confirm it's a solid platform to host your podcast on. The features are exhaustive, the user experience is fantastic, and even the free websites you get with each plan look good. And aside from the number of monthly downloads, there are no limits on the number of podcasts you can host or team members you can add.
They've also been working on cool tools, especially when it comes to monetizing your program. You can add built-in CTAs or create a Sponsor Kit PDF to show your numbers and give an idea of your reach to potential advertisers.
There's definitely a lot to love, so I'd highly recommend giving their platform a shot with the free 7-day trial offer.
> More information: Captivate.fm
PodBean: The User-Friendly Newbie
Started in 2006 and hosting more than 400,000 podcasts, PodBean is quickly making a name for itself. In fact, you might already be familiar with this New York based company thanks to its popular player, which works with iOS, Android and even Amazon's Alexa.
In terms of hosting features, you get good monetization and marketing tools such as the ability to push to social, create a custom design, and use embedded players. One of their unique selling points is the crowdfunding option, which acts like a mix between Kickstarter and Patreon. In short, they're doing their best to help podcasters make the leap from hobbyist to professional by getting them paid.
Podbean Podcast Hosting Pricing
Basic: completely free! 5 hours of storage space and 100GB of bandwidth per month. Can't monetize and you only get basic player themes.
Unlimited Audio: $9 per month for unlimited audio and bandwidth. You can start monetizing through 2 ad networks. Get access to basic player customization, and you can also map the website to your own domain name.
Unlimited Plus: $29 per month. Same as above, but with full custom design options for the player. You can monetize through all 4 available ad networks, and join their podcast network.
Business: $99 per month. For enterprise podcasting who need multiple admin access, white-label podcasting app and premium bandwidth.
Podbean Podcast Hosting Pros
Free subdomain and website
Easy to use
Affordable plans
Good monetization options
Podbean Podcast Hosting Cons
Basic website functions
Premium bandwidth costs extra
Podbean Podcast Hosting Notes
Podbean is a great hosting site for beginners. It's user-friendly, has tons of options and gives you all the tools to get started, including numerous monetization options (with the paid plans). The customer service also seems top-notch, which is great when you are setting up for the first time.
One of their big markets are also enterprise podcasts, so if you're at a company in need of a powerful internal communication tool, you can use things like collaboration tools and content segmentation. It seems to work well, as organizations like IBM, Stripe and JP Morgan use Podbean for their business podcasting needs.
> More information: www.podbean.com
Blubrry: Tasty Podcasting Features
Blubrry acts as a podcast hosting platform, a podcast directory, and a podcast plugin for WordPress, the highly praised PowerPress plugin. It's a huge advantage for WordPress users, because everything is optimized for them, from storage space to ease of use. Also, you get a free PowerPress site – which looks pretty good for displaying your audio content.
Blubrry Podcast Hosting Pricing
Small: $12 per month. Lets you add 100MB storage every month. Unlimited bandwidth and premium stats.
Medium: $20 per month for 250MB of extra storage each month.
Large: $40 per month for 500MB of extra storage each month.
Extra Large: $80 per month for 1000MB of extra storage each month.
Blubrry Podcast Hosting Pros
Unlimited bandwidth and premium stats on all plans
Free PowerPress Site for all plans
Generous 25% allowance for going over extra storage
Edit and replace old content to make it evergreen
Blubrry Podcast Hosting Cons
Statistics can be overwhelming
Complex for non WordPress users
Blubrry Podcast Hosting Notes
Blubrry has made a great reputation for itself thanks to their PowerPress plugin for WordPress. We like that they're generous with their storage space – something no other podcast hosting platform does.
And while it's a little bit more expensive than other solutions, they are giving users more power with their unique features such as "no-fault storage" (which gives you complimentary storage of up to 25% above your monthly quota in case you get a spike in listeners); "long-tail podcasting" which lets you edit and replace content in your archive at no additional cost for evergreen content, and a professional production add-on (for mastering and editing your content).
> More information: www.blubrry.com
Spreaker: Pushing Your Words Through Their App
You might have heard the name Spreaker thanks to their popular podcasting app. It's available on iOS and Android, and lets you listen to a huge directory of podcasts from around the world. Oh, and there's also Spreaker Studio, their desktop and mobile software that lets you record, edit, and manage podcasts.
Which is why it's not surprising to hear that Spreaker also works behind the scenes, by letting you host your podcast with them directly. Of course you get to reach their huge audience of app listeners, and you can even broadcast live to really feel like a radio presenter!. Oh and you can also publish to Spotify, TuneIN, Stitcher and iHeartRadio, amongst others – all starting at $0 per month.
Spreaker Podcast Hosting Pricing
Free Speech: Free plan lets you upload up to 5 hours of audio. Live podcasts can be up to 15 mins long. No monetization.
On-Air talent: $7 per month. Upload a maximum of 100 hours of audio. Live podcasts can be 45 mins long. Start monetizing and get customizable RSS feeds. Basic stats.
Broadcaster: $18 per month for a maximum of 500 hours of audio storage. 3 hours of live podcasting. Advanced statistics
Anchorman: $45 per month for 1,500 hours of audio max. 5 hours of live podcasting and full statistics.
Spreaker Podcast Hosting Pros
Find your audience through their popular app
Live broadcasting!
Chat with listeners
Full integration with the Spreaker Studio
Spreaker Podcast Hosting Cons
Statistics are tiered depending on plan
Spreaker Podcast Hosting Notes
Spreaker provides a good 360 solution for podcasters. You can record in their app, host on their plans, and reach audiences through their other app. With a focus on live broadcasting and chat, you'll feel like a real radio presenter in no time!
The plans are generous, and the main thing to keep an eye out on are the kind of statistics and distribution options you get. For instance, with On-Air Talent, you get Customizable RSS feeds, but the player isn't customizable. Statistics are also limited, so you'll need the highest tier to get things like followers trend, listeners geolocation, episodes likes and audience demographics (it can even be as granular as learning which devices people listen on with the Anchorman plan).
Transistor: Podcasting For Personal Brands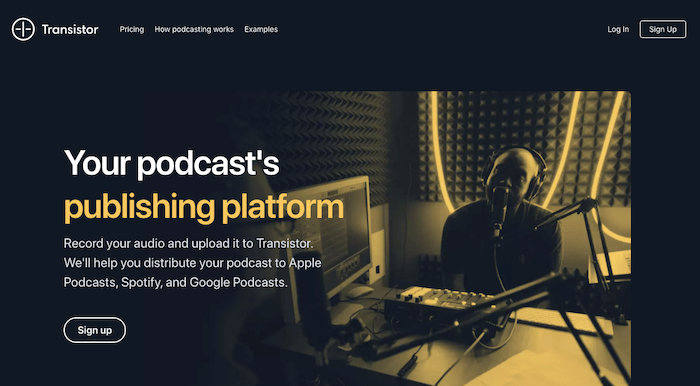 A fairly newcomer to the hosting scene, Transistor is now the podcasting home of Alexis Ohanian (co-founder of Reddit) and companies like Basecamp and Kickstarter. You've guessed it, they're geared towards businesses, creatives and professional podcasters, especially those who have multiple shows under their own names.
In terms of features you can expect all the usual like listener analytics, embedded players, customization options, and one click publication to Apple Podcasts, Spotify, Google Podcasts, Overcast and more.
Transistor Pricing
Monthly: $19 per month unlimited podcasts, 2 users per podcast, 10,000 monthly downloads
Professional: $49 a month same as above with 5 users per podcast and 50,000 downloads

Business: $99 a month for 10 users per podcast and 150,000 downloads
Transistor Pros
Host unlimited podcasts
Good analytics
Focus on team management
Transistor Cons
Limited monthly downloads
No free plan
Can't remove player branding unless on Business plan
Transistor Notes
A key advantage of using Transistor over competitors is probably the ability to host unlimited podcasts with one account. If you have multiple shows under your name, it's easier to keep them all in one place – which explains why companies love using Transistor.
Because it's modern, you also get a well-designed backend that is intuitive and easy to use. I'm surprised that this platform that focuses on personal branding doesn't let you customize the player on the lowest tiers, though. Final note: there's no free plan, but you can test all the features with the 14 day trial (you'll need to enter your card number).
> More information: www.transistor.fm
Anchor: 100% Free Podcast Hosting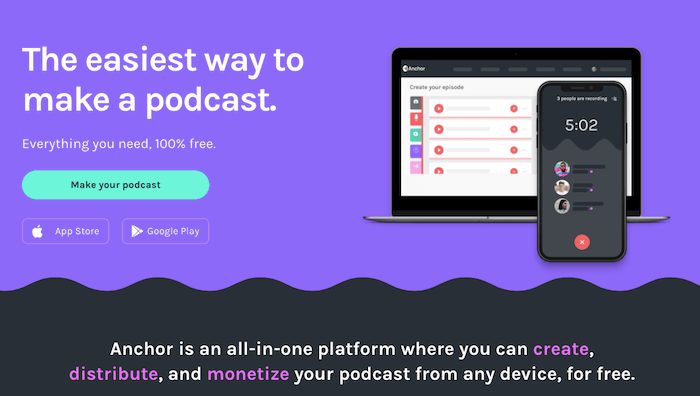 You might have noticed a trend with all the platforms I've mentioned so far: you usually get a free plan with limited features, and then paid ones. But not with Anchor, the only solution on our list that is completely free and completely unlimited.
And if you're worried about how they fund that free service: In 2019, Anchor was acquired by Spotify for a reported $140M, so there is investment money behind it. In a lengthy Medium post, their CEO also explained that hosting a podcast costs less than 10 cents a month, so any paid podcast hosting platform is essentially ripping you off.
But what about the content ownership? Does it mean you're signing away the rights to your podcasts when you use a free platform? Turns out there was some controversy around it, but it looks like you still have full ownership of all your content. However, their terms and conditions do give them license to distribute the content worldwide, so they could reproduce it and even market it for themselves if they so choose.
Anchor Pricing:
Completely, 100% free for unlimited file uploads, downloads and listeners. You can even remove the branding.
Anchor Pros:
Well, it's completely free
One click distribution
Record from your the app, desktop or browser (with up to 5 people at once)
Monetization options
Anchor Cons:
Clunky audio editor
Poor customer support
Limited marketing / distribution options
Anchor Notes
The fact that Anchor is completely free and not used by any known podcasts should give you a good clue about who it's for. It's mostly beginners and budding podcasters. In fact, some people go as far as calling it a "sandbox", that is to say: a place where you can experiment without having high expectations.
As for monetization options, they're also available via their sponsorship programs, which matches you with advertisers (and pockets Anchor a 30% fee). There's also the option to be sponsored by listeners.
Now you might not be able to become the next hit podcast with Anchor, but it's definitely a great option to test the waters and get started in the world of professional podcasting.
Castos: Seriously Simple Podcasting
The "seriously simple" part comes from them running the "Seriously Simple Podcasting WordPress plugin". Remember at the top of the article how we said it's not wise to host podcast files on your website? There is an exception. If you use WordPress, you can install one of their fantastic plugins to turn your site into a complete podcasting solution. Castos is probably the best, including Powerpress, which we mentioned above.
Castos Podcast Hosting Pricing
Starter: $19 per month. Unlimited episodes and storage, one-click import of previous episodes from elsewhere, in-depth stats.
Growth: $49 per month. Same as above, with the extra ability to republish podcasts to Youtube as videos.
Pro: $99 per month. Same as Growth, but you can also host video podcasts.
Castos Podcast Hosting Pros
Can separate hosting and plugin
Good analytics
Unlimited episodes and storage with all plans
Can add all metadata in another language
Option to republish podcasts to YouTube
Castos Podcast Hosting Cons
Need a WordPress site
Requires WordPress technical knowledge
Castos Podcast Hosting Notes
Castos is an ideal solution for users who already know and love WordPress. The stats are great, it's easy to publish from your dashboard, and you can upload unlimited episodes. The prices seem a bit stiff, however, and the video options don't really seem worth it. It's also worth noting that you can use the company's full set of services to help you edit, launch and distribute your podcast with PodcastMotor.
Since I originally reviewed Castos, they have implemented some new features like an audio transcription tool ($0,1 per minute), professional editing services (from $75 per episode), and they're apparently working on some new customizable analytics reports to show potential advertisers.
> More information: castos.com
SoundCloud: The Most Familiar
SoundCloud is a highly recognizable name in the music streaming world. But they're also one of the biggest platforms for podcast hosting. The biggest advantage is that millions of users browse their platform looking for new content, so you'll get some traffic simply by virtue of using the service.
It's also is an intuitive website, which has been around long enough to be trustworthy. Their player is ubiquitous on the web, and that's because it's so easy to embed and comes with good options. These include the ability to one-click share to Twitter, and their innovative timed comments that really give a sense of community around each upload.
SoundCloud Podcast Hosting Pricing
SoundCloud Basic: free. 3H of upload time, and basic statistics and embedding options.
SoundCloud Pro: $6 / month. 6H upload time and full embed controls. Advanced statistics quiet mode (no comments).
SoundCloud Pro Unlimited:  $12 / month. Same as above, except you can upload unlimited amounts of audio. Also adds the option to schedule releases.
SoundCloud Podcast Hosting Pros
Clear, affordable pricing and plans
Good player and easy embeds
Get traffic from a large community
SoundCloud Podcast Hosting Cons
Limited statistics
The monetization options are geared towards musicians
SoundCloud Podcast Hosting Notes
SoundCloud works to host your podcasts, but it's really a musicians-first hosting platform. This is evident when you start looking at the monetization options of their new Repost service, which all claim to help you make money "from your music". This works by placing ads before your episodes, but you don't really control the advertisers. I wouldn't really recommend SoundCloud as a hosting platform if your goal is to make money off of your podcast, but definitely can't hurt if you want an extra boost in listeners.
Libsyn: Home of The Biggest Names
If you're an avid podcast listener, chances are Libsyn is the name that comes to mind as soon as you think of hosting. The Joe Rogan Experience is hosted there. WTF with Marc Maron is hosted there. Bill Burr's podcast is there. Dan Carlin's Hardcore History, and the McElroy brothers are there. You'll be in good company.
Now in terms of features, Libsyn were the first to partner with Spotify, and you can push your podcast to a variety of other places, including iHeartRadio, Youtube, Soundcloud, Facebook, Twitter, and WordPress, amongst others.
You get a page on Libsyn (mypodcast.libsyn.com) The top tier also comes with your very own podcast app, and you can work with their list of vetted advertisers if you hit around 5000 downloads per episode within 30 days.
Libsyn Podcast Hosting Pricing
Libsyn Classic 50: $5 per month. Lets you add up to 50 MB of audio monthly.  You can create a RSS feed, podcast page, HTML5 player and network app listing. Basic statistics cost $2 extra per month.
Libsyn Classic 250: $15 a month to add 250 MB of data monthly. Same as above, except basic stats are included.
Libsyn Advanced 400: $20 per month for 400 MB of extra data storage per month. You can get the custom app or an extra 200Mb for $10 more per month. Advanced statistics are included in the price.
Libsyn Advanced 800: $40 a month for 800 MB of extra data per month. Same as above with the extra option of transcoding your audio files.
Libsyn Advanced 1500: $75 / month for all the bells and whistles and near-unlimited data hosting.
Libsyn Advanced 3000: $150 / month for even more storage (1500mb)
Libsyn Podcast Hosting Pros
Easy to switch plan
Promote through multiple platforms
Reliable reputation
Libsyn Podcast Hosting Cons
Dated website
No free plan
Libsyn Podcast Hosting Notes
Libsyn puts your podcast in safe and reliable hands. One downside is that their website is dated, and the backend isn't super beginner-friendly because of the multiple customization options. It's an old platform. Also, the fact that there is no free offer can put off newbies, so maybe they're best for more experienced podcasters.
Squarespace: Website Builder for Creatives
If you listen to podcasts yourself then you probably also know their ads. One thing to note is that Squarespace is a fully-fletched website builder and not just a podcast hosting service. So if you've already got a website, this wouldn't be for you. However, if you also need a place to host your blog, Squarespace could be a really decent choice for you.
Squarespace Pros
Convenient all in one blogging solution
No extra costs for podcast hosting (It's enough to have the Personal plan)
Useful video tutorial
Squarespace Cons
Only works for Squarespace websites
Can't move your Podcast to a different platform easily
Missing pro features (statistics etc.)
> More information: squarespace.com
Honorable mention: Wix Podcast Player
We're big fans of Wix as a website builder. And we also knew they offer tons of apps to transform your site based on your needs. One of them is the Wix Podcast Player, which is ideal if you already rely on their platform. It's free to add to your site, but keep in mind that it's only a player. You need to host your podcast on one of the other services mentioned in this article.
Wix Podcast Player Pros
Integrates into Wix
Very easy to get started

Wix Podcast Player Cons
For Wix websites only
No hosting included

Conclusion – The Best Podcast Hosting Platform?
Quite frankly, it's amazing to see how quickly podcasting has grown in the last decade, and this means a proliferation of platforms where you can host your episodes. So the best podcast hosting platform will vary depending on:
Do you want a generous free plan? We like what BuzzSprout and PodBean are doing. And Anchor is the only true 100% free solution we've looked at.
Do you want to grow your podcast professionally? Go for the industry standard Libsyn or use Transistor for multiple shows under the same account.
Ease of use is your main focus? SoundCloud or PodBean are great options.
And of course, this list might continue to grow over the years, so feel free to let us know your feedback, comments and podcast hosting suggestions below!
Latest updates:
-21 May 2020: General update & Transistor and Anchor added
-30 Oct 2019: Captivate added.
-16 Aug 2019: Added Squarespace