Wix and Weebly have a lot in common. Offices all over the world. Big marketing budgets. Good reputations. In fact, they are two of the most popular website builders on this planet.
However, taking a look into Google's Keyword Planner Tool we can clearly see that Wix.com gets six times as many searches as Weebly.com.

Search volume of Wix vs. Weebly on Google Keyword Planner
It looks like Wix's Super Bowl ad campaign spend is not completely wasted. Wix definitely has the louder voice: but is bigger always better?
Looking at the feature set we see that both website builders sport slick drag and drop interfaces for building a website without a line of code. Free plans with adverts. Monthly plans without adverts…
You see what we're getting at here. With a quick overview, it would be difficult to decide which service is the best one for you. But if you dig under the surface, you'll find some minor differences that could help you pick a clear winner. So without further ado, let's start our digging, shall we?
Table of Contents:
Ease Of Use
Design and Flexibility
Responsiveness & Navigation Levels
Ecommerce
SEO (Search Engine Optimization)
Blog
Customer Support
App Stores
Pricing Plans
Backup and Restore Options
Final Thoughts
Weebly vs Wix: Our Video Review
If you'd rather watch a video than read words, this is for you:

Ease Of Use: Which one is more intuitive?
Let's be very clear here: both services probably became as popular as they are today because they are extremely easy to use. Their advertising doesn't lie. It only takes minutes to get started.
All you need to get do is to create an account with your name and email address. Then you choose one of the many available templates, and start moving things around with your mouse. Both website builders use drag and drop editors as you can see here:
Weebly's drag and drop editor
Wix's editor has much more options and also looks a bit less dull. For some it could seem a bit overwhelming: not only can you position all the elements exactly where you want, you can also finetune colors, styles, fonts and even animate images and text.
And while this seems like a lot of complexity, Wix ensures that you never break your site entirely!
How do they achieve that? By providing a global Undo button AND a site history feature (we'll show you later what that is exactly – it's very powerful indeed).
Weebly doesn't do that, unfortunately.
Where it gets interesting is that the services have kind of different philosophies on what you can and can't do when building your website.
Winner: A tie. Fewer options also mean Weebly has an easier to use product overall. But Wix has a pretty cool alternative for complete novices called Wix ADI (which we'll show you in a minute).

Design and Flexibility:
Ok, so let's see what we mean about Wix and Weebly's different philosophies.
With Wix, you have complete control over the design. You can add external fonts. You can add pictures and video animations in the background. You choose a template based on your industry (music, photography, portfolio, restaurant etc…).
You can even rearrange the elements to your heart's desire. They call this technique Pixel Perfect, because you can really position things wherever you like, even if it makes your website harder to navigate. So a word of warning, you will need a good eye for design if you're feeling adventurous with your creation.
Adding a Wix photo gallery
They also offer the aforementioned Wix ADI (Artificial Design Intelligence), which can automatically connect your social media, generate a contact form or pick the best design for your audience. You can of course tweak the results if the smart assistant is too dumb for you! In fact, it's even possible to completely switch to the regular Wix website editor if you prefer.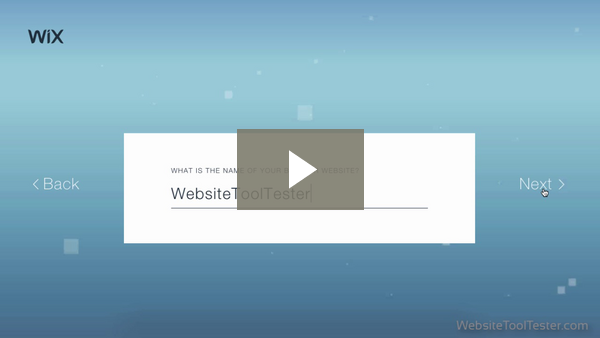 With Weebly, you can get similar results, albeit with less room for exploration. Your templates come locked on a kind of grid, so you can rearrange elements, but it's a lot more structured.
Winner: clearly Wix as it's as flexible as it gets.

Responsiveness & Navigation Levels
With Wix, you can choose how your site will look on a smartphone, but you have to rearrange the elements yourself. And they only offer one sub-level for navigation, which is not really enough if you want a complex online home.
Weebly's sublevels in the navigation
So as previously mentioned, the reason Weebly is more structured is that all their templates are designed to work perfectly on mobile devices. Once you're happy with your design, no need to change a single thing. It will (usually) look good on all kinds of screens, from smartphones to tablets. And as a big bonus, you also have an unlimited amount of sub-levels for your website, which is great if you want to create an online maze for your users (which you hopefully won't!).
Winner: Weebly by a small lead.

Ecommerce: Create an online store
We wrote a complete review of Wix eCommerce here, and the conclusion is that it is pretty great for small online stores.
You'll be able to sell physical and digital goods, anything from kitten paintings to MP3 albums. All products can be optimized for search engines and you can easily add products and accept payment via PayPal, credit card (Stripe, Wirecard), or offline payment. Wix, as usual, is particularly strong in the visual presentation of your products: easily add images with a zoom effect and also videos. We don't have any complaints about their SEO options either. A short while ago they even added an import/export option for your product catalogue.
Wix Product Catalogue
Weebly offers a much better out-of-the-box solution. In fact, we'd go as far as saying that it is almost in the same league as ecommerce giants like Shopify. The reason? They let you easily create a new storefront or import your product list automatically. You can sell MP3s, videos or any kind of digital product along with physical items.
They offer SEO fields for all items and SSL encryption comes de facto if you have a Business or Performance plan. And then there are some really advanced features: an automatic sales tax calculator (USA) and a shipping cost calculator. Two things that Wix does not have.
Weebly digital goods
The only point where Weebly shops fall short is on payment options. They have the same options as Wix minus the ability to let customers pay offline. This could be a big turnoff for if most of your business is done through cash on delivery, bank transfers or other "offline" means of payment. Please bear in mind though that Weebly's shopping cart will cost you $25/month instead of $17/month for Wix Ecommerce.
Winner: Weebly again, albeit by a small margin.

SEO: What's the best tool for search engines?
When it comes to achieving the best ranking for your pages, both Wix and Weebly give you good enough options. It's worth noting that this didn't use to be the case a few years ago, but they've really stepped up their game since.
Both now let you change pages meta descriptions and titles, URL names, and 301 redirects. For some obscure reason, Weebly has a restricted use of headline tags, while Wix lets you go from H1 to H6. Weebly has an app to fix some of the headline pains but this isn't smooth sailing either as it can cause some formatting issues.
And for an equally obscure reason, Wix changes all image file names into something rather cryptic, which is less than ideal if image SEO is important for you. If you're a bit of an SEO geek, you can find more information here.
Wix's editor SEO options
It's something only the super SEO geeks should worry about, but still… this one's a pretty clear tie, no winner.

Blog: Publish regularly
Like with SEO, both Wix and Weebly have improved their blogging options a lot over the last few years. So that's something to say for the power of competition!
And while both offer basic blogging features, we'd have to say that Weebly delivers a bit more in this department.
Weebly's blog editor
However, this is only because Wix's editor is not as well integrated into the rest of the site builder. It appears in an external window and doesn't let you insert anything more than images, text and videos. Instead, Weebly will let you create more complex layouts for blog posts and you can add any Weebly element from the regular editor (e.g. forms, image galleries, etc.) you'd like to.
Winner: Weebly, quite clearly.

Customer Support: Can you get help?
Stuck for help? Both Wix and Weebly offer phone support, good tutorials and active online forums. Oh, and you can also pester them via Facebook or Twitter if you want to pressure/shame them into giving you an answer.
Weebly still gets an extra point (or maybe half a point) because they have clear Contact Us details including email address and phone. Plus, there's also live chat. Wix really wants you to find an answer in their FAQ first, which can be a little frustrating sometimes.
Winner: Weebly by a wee bit.
Just to recap, Weebly is now leading 5:2! Is the match already decided?

App Markets: Expand your site's capabilities
The good news here is that both services have very complete external app stores, so you can add a decent amount of extra features to your website. Some of them are free and some are expensive. Some of them are great and some of them not so much. So it's quite hard to decide objectively which market is the best one based on price and quality alone.
Wix's App Market
The main difference is that Wix's App Market is much more comprehensive than Weebly's. It also has more high-quality apps developed by Wix themselves (Wix Bookings, Wix Restaurants, Wix Hotels etc.), so you won't have to worry about your third-party app being unsupported all of a sudden (which is pretty unlikely anyway).
Winner: Wix brings this point home safely.

Prices: Find the best website deal
We know this is probably the first thing you wanted to check, but the answer is not as clear-cut as you'd imagine.
What we mean by that is that if you want a free website builder, you'll get ads on Wix and Weebly (which doesn't look super professional if you ask us). Wix also has a cheap option called Connect Domain where you can add your own domain name for $5/month. It still has ads unfortunately. Weebly recently introduced a similar plan, also called "Connect" for $4/month, which, however is not available to all customers.
Starting from there, the monthly plans are very even. You can look at our comparative tables for Wix here and Weebly here.
The important things to note are:
Both their free plans are ad-supported and will show a self-promoting banner (they are little but still visible, Wix's more than Weebly's). Also you won't have a custom domain name.
Wix lets you cancel your paid plan within the first 14 days and give you a full refund. No questions asked!
With Weebly it's even better: you get 30 days to decide.
Both Wix and Weebly make you pay for your domain name after the first year (Weebly charges slightly more than Wix).
Both make you pay for an email account with your website domain (about $45 yearly through Google's G Suite).
Winner: Overall, we'd hand this round to Wix. In most cases Wix's Combo plan or Weebly's Pro plan should be the right choice as they allow access to all features. Comparing these two, Wix is $1 cheaper per month. Your Wix Shopping Cart is a full $8 cheaper than Weebly's online store.
Weebly's lead is shrinking: 5:4 is where we're at.

Backup and Restore Options
Weebly lets you manually download a copy of your website so you can store it locally. This is useful because you'll have a copy of your content stored elsewhere. But the big con here is that this file that you download is not restorable, in other words, you won't be able to upload it to Weebly's server site and return your site to a previous version. It also won't work properly if uploaded to a different server via FTP as dynamic elements (blog, store etc.) will not function.
Wix's Site History Feature
Instead Wix offers a pretty useful feature here. The Site History functionality tracks your changes and saves a copy of your site each time. Then with 1 click you can restore your site to a previous moment. This is light years ahead of Weebly's solution because you don't have to remember to make backups and you can restore your site within seconds. It's a bit like Apple's Time machine or Google Docs if you're familiar with these products.
Winner: It's nice that Weebly lets you create a backup, but this can't be compared to what Wix offers; they win this round without a doubt.

Wix vs Weebly: Final Thoughts
As you've seen, Weebly started out very strong in this competition. It wasn't enough for a victory in the end: both website builders scored 5 points. In our ranking they are the top 2 website builders so this tie makes a lot of sense.
Hopefully now you're a little less confused than at the beginning of this article. But if you still can't decide, here are the final thoughts for you:
Wix is probably better for people who want a website tailored to their industry. By that we mean creatives (photographers, artists or musicians), tourism industry (restaurants, hotels) or liberal professions (doctors, accountant, architect etc…) They have beautiful and fitting website templates and easily integrate online bookings. Find out more about Wix in our Wix in our review.
Weebly beats Wix in other categories. Their structured website building approach can be very beneficial to people who are less confident with design. It's also quite objectively better for ecommerce solutions and for blogging. Check our Weebly review for more information.
However, if ecommerce is your thing, don't forget about the many other solutions available. They could be an even better match for you!
> Remember that you can try Weebly and Wix for free

Leave your questions and feedback in our comments!
Please note:
This article originally got published on 17 Apr 2017 but we've given it a complete update in February 2018.