Jimdo Review: We take Jimdo for a test drive
Jimdo is based on one key idea: ease of use in every way. Their website builder, which has helped to create more than 20m websites, aims to remove all barriers to enable you to create your own website. Regardless of whether you're a restaurant owner, retail merchant or freelancer.
In recent years, Jimdo has become one of the major website builders worldwide. Part of the reason for this is well thought-out features, such as the Jimdo online store. Activating it only takes a matter of minutes. Once up and running, it allows you to accept orders from buyers from all around the world. According to Jimdo, some 200,000 shops have already been created since its launch in March 2010, mostly from small business owners.
The team at Jimdo has taken great care to ensure that they don't over-complicate the system as they add new features. This means that more features do not automatically mean greater complexity, which is very reassuring. Let's take a closer look at what Jimdo has to offer.
Ease of use: The editor is made for complete beginners. Adding and editing elements can be done with a few clicks. The style menu is a great visual tool for sitewide changes like font size or colors. This is a huge timesaver and makes editing straightforward.
Domain and Email accounts: Unlike most competitors, Jimdo has email hosting and a domain name already included in the Pro and Business packages. This makes Jimdo's pricing extremely competitive since you don't have to pay extra for these features.
SEO: Optimizing your website for search engines is one of Jimdo's big strengths. The backend gives you full control over page elements such as the page title, description and URL. Also, they use SSL-encryption, which is a ranking factor for search engines. If that's not enough, Jimdo's paid Ranking Coach tool can further help you understand SEO.
App: Jimdo's app is one of the best in the market in terms of creating a website with a tablet or mobile phone. It's available for both Android and iOS.
Flexibility of templates: Sometimes you just want to move things around. However, due to some template restrictions, this is not always easy (or, in some cases, even possible). Good news: you can test all of their templates in the Jimdo Free version!
Online store: Even though Jimdo has a pretty decent integrated online store, unfortunately it's not the best choice for US-sellers. The problem is that there's no credit card gateway available. Currently you can only offer manual payments or PayPal.
| Criterion | Rating | Comment |
| --- | --- | --- |
| Ease of use | | Well organized and very intuitive with drag and drop functionality. This is one of the fastest editors we've seen, but be aware that Jimdo has no preview function. This means that all your changes will be saved directly to your live website. Their new iPhone/iPad app allows you to edit your website from mobile devices. |
| Choice and flexibility of design (templates) | | The templates were completely modernized in August 2014. All designs are optimized for mobile devices (fully responsive). Style sets (fonts, colors, etc.) can be changed very flexibly now. Advanced users also have HTML and CSS access to create custom templates. |
| Advertisement-free | yes | In Jimdo Pro and Business. JimdoFree sites display a relatively small Jimdo button in the footer. |
| Languages | | The interface supports eight languages, while the editor supports any language. Multi-lingual websites are also possible. |
| Features | | |
| Your own domain name (e.g. .com or .net) | yes | Jimdo PRO and BUSINESS include a free domain name (e.g. .com). You're allowed to re-direct your existing domain: more info here. The plans also include email addresses, which you can manage directly from within Jimdo. All sites are SSL-encrypted (https) in any of their plans. |
| Depth of navigation | | Two sub-levels possible. Another level would be nice. |
| Widgets (small tools to add extra functionality) | | Embedded video (YouTube) and excellent photo galleries keep your website looking good. Facebook and other social media services can be integrated. Jimdo provides also a built-in photo editor. |
| Monetization | yes | Using banners and/or Google Adsense for example. |
| E-Commerce | | The store includes a range of payment options and even has its own order management system. The PRO plan allows you to put 15 products on your site, BUSINESS doesn't have a limit. Find our review of the online store here. |
| Search Engine Optimization (SEO) | | Page title, meta descriptions, URLs and image ALT tags are all editable on the PRO plan. In the Business plan you can also exclude certain pages from search engines and set 301 redirects. (More on SEO). |
| Blog | | It's a bit complicated to set up (instructions here). Includes all the standard blog features such as trackbacks and pings, but no categories. Install Disqus if you want more comment features. |
| Visitor statistics | | The nicely-integrated Google Analytics provides detailed stats. |
| Contact form | yes | Fields are fully customizable with Jimdo's form builder. You can also edit the confirmation message. |
| Password protection | yes | You can protect your site or individual pages. Depending on your Jimdo plan it is possible to create several password-protected areas with different passwords. Blog posts can't be protected. More information. |
| Newsletter tool | no | Doesn't offer a newsletter tool anymore but you can easily integrate external newsletter services. Check EmailToolTester for recommendations. |
| Add HTML code | yes | Allows you to add other widgets and tools. |
| Storage space | 500 MB+ | PRO gives you 5 GB, JimdoBUSINESS offers unlimited storage. With Jimdo you don't need any additional hosting contract. |
| Backups & Restore | no | Unfortunately, it is not possible to create a backup or restore your content. You can find a workaround here. |
| Support | yes | E-Mail, wiki and forums. Generally support quality is good although it could be faster at times, especially PRO support. |
| Fun Factor | | The fun factor is high with this builder! |
| Overall Rating | 4.2/5 | Simple, yet packed full of innovative features. Jimdo has put together a convincing package consisting of a website builder, blog, domain name, email address(es), and the option to run a web store. |
Conclusion
From our experience we are convinced that Jimdo is a really great all-in-one package that provides everything you need for a small business website. Their paid plans include a domain name, email accounts and a great ecommerce feature tool that allows you to keep in touch with your website's visitors.
It's very easy to understand and it provides excellent options to attract new visitors through search engines. One area where they could improve is in their layouts. Even though the variety is great and they are optimized for mobile devices, they could use a bit more flexibility — their competitor Weebly leads the way in this respect.
Jimdo's pricing is fair and based on one-year contracts. Find a detailed comparison of Jimdo's Pro and Business plans here. To get started we would suggest you try out the free plan and see if you like it.
> Why not start right now? Click here to try Jimdo for free.
Is Jimdo the right website builder for you?
you don't want to spend too much money
you need an email address included
you require good SEO capabilities
you want a free website with little advertising
you also want to edit your website with your tablet
you need a lot of design flexibility
you want to use the online store for digital goods
you want to be able to add functions via an app store
User Opinions about Jimdo
Jimdo's support is nice. It is not instant - usually 24 to 36 hours but it has been on target to my questions.
Sandra
It was the first time I ever tried to create a website. It made everything easy.
Susana
They have a very good email subscription service.
Angie
Weebly
See review
Squarespace
See review
Wix
See review
A few comments:
Weebly
Weebly is very intuitive and extremely beginner-friendly. You can also add extra features from the "Weebly App Center" via drag and drop functionality. Of course, an online shop and blog are included. Since the domain is only included for one year (without email accounts), Weebly is not as affordable as Jimdo.
Wix
If you're after an eye-catching website, Wix may be the better choice. Wix has many design options, allowing you to add and position elements like pictures, videos and even blend-in effects. However, its blog and SEO aren't as good as Jimdo's.
Squarespace
Similar to Wix, Squarespace has some pretty stylish templates in its standard portfolio. However, a certain understanding of design and web editing is required. The editor is not quite as easy to use as Jimdo's.
Will I only be able to use a .jimdo.com domain name? I need a proper .com domain, such as henrysonlinestore.com.
Jimdo paid plans comes with one domain name (e.g. .com, .net, .org or one of many others). More details.
If you have a Namecheap, 1&1 or GoDaddy domain name, you can learn how to transfer or point it to Jimdo with our tool.
What can I do with the iPhone / iPad app?
Using the mobile iOS app for the iPhone, iPad or Android you can create Jimdo websites from scratch or edit existing ones. However, at this time not all functions are available. It's not really enough for productive working but but it's a useful tool for making quick changes. You can download the app directly from the app store.
Check out these screenshots of the app:
Can I start with Jimdo Pro and later upgrade to Business?
Yes, you won't be charged twice. None of your content will disappear when doing the upgrade.
Is it possible to add an event calendar to a Jimdo website?
Yes, you can. For example, use a Google Calendar and embed it in your website. Learn more here.
I need to be able to communicate with my readers. Can I add a newsletter sign-up form and Facebook to my website?
You can integrate a sophisticated solution such as Mailchimp or Aweber. It allows you to collect your readers email addresses. It's very easy to add a Facebook Like Box to your site as Jimdo has a special element for that.
Can I hide my website from search engines like Google?
You can hide pages in Jimdo Business (via the noindex attribute), but not all search engines respect it. If you want to be sure, you should enable password protection. More details here.
Are there any discounts available for Jimdo's paid plans?
Yes! You can receive 10% off for the first year using their official voucher code: Get it here.
Can I add videos to my website? Does Jimdo have an integrated video player?
While Jimdo doesn't have an integrated video player, it's easy to upload them to YouTube or Vimeo and embed them on your Jimdo site. They will appear in the same way as you can see on this page here.
Does Jimdo offer a site search?
No, but you can add a free Google-powered search box to your website. Find details here.
Do I have to install Jimdo on my PC or Mac?
No, you don't. Jimdo's website builder runs online in your computer's browser, no matter if you are on a PC or Mac. It generally runs fastest in Google Chrome, but you can also use Mozilla Firefox or Internet Explorer.
Jimdo Uptime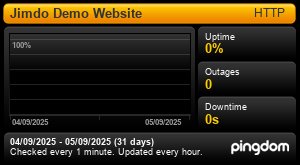 Here you can see the uptime of our Jimdo demo website within the last 30 days. The best result would be 100%. The uptime should ideally be above 99.90%. These numbers are updated in real-time.
Jimdo Response Time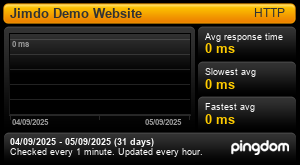 That's the time it takes to receive a response from Jimdo's servers. A good value would be 200-500 milliseconds. 800ms and more could feel slow to your visitors. Jimdo's advantage is that they have servers in the US, Europe and Japan that automatically get assigned depending on where most visitors come from.
Jimdo Page Speed Test
| Jimdo | Desktop | Mobile | User Experience (mobile) |
| --- | --- | --- | --- |
| Template Barcelona | 84 | 70 | 100 |
| Template Dubai | 84 | 70 | 100 |
| Template Lima | 84 | 61 | 100 |
| Average Rating | 84 | 67 | 100 |
Loading time has become an important ranking factor for Google. A slow-loading page can make the difference in your rankings. Even though the Jimdo website builder doesn't provide responsive templates, they all have an optimized version for mobile phones. Desktop and user experience are already pretty good. Mobile could be a bit better.
23 Aug 2017 – Dropbox integration is discontinued
17 Jan 2017 – New backup & restore category added to the review
10 Jan 2017 – SSL encryption has been introduced for all plans.
17 Jul 2016 – Jimdo's new overall rating is 4.3
07 Jul 2016 – All themes are now fully responsive
28 Jun 2016 – Jimdo provides a new built-in photo editor
17 Jun 2016 – Jimdo Business includes now only one domain name
03 Mar 2016 – Downgrade in Widget rating.
03 Feb 2016 – New section for use cases added.
15 Jan 2016 – New sections added: pros & cons, geeky stuff, etc.
05 Aug 2015 – New editor screenshots added
28 May 2015 – The Polish language option has been removed.
28 Apr 2015 – SEO feature update: editable URLs and 301 redirects.
20 Nov 2014 – New video review added
27 Aug 2014 – Review of the new version: the designs look a lot better now. As of now, there are only a few responsive templates. The new style editor is a lot more flexible and also the content editor is easier to use now. The newsletter tool has been removed from new accounts.
26 Mai 2014 – We downgraded Jimdo's design rating to 3.5 (before 4). New overall rating: 4.5 stars (down from 4.7).
22 Aug 2013 – New iPhone/iPad app
23 Apr 2013 – You can now create voucher discount codes for customers of your online store.
12 Mar 2013 – We've added information about password protection.
11 Oct 2012 – Jimdo adds better options for search engine optimization.
13 Sep 2012 – Video review of the online store added
03 Aug 2012 – A few minor updates
17 Apr 2012 – Jimdo doesn't charge the store sales fee anymore
30 Mar 2012 – Small updates (languages and SEO)
24 Feb 2012 – Updates to Jimdo's form builder
17 Jan 2012 – Video review and video page added
22 Nov 2011 – Jimdo's servers are very fast as we've found out in our server performance check.
30 Aug 2011 – Jimdo is now relying on Google Analytics for stats
20 Jul 2011 – Review of Jimdo's mobile-friendly websites
20 May 2011 – More email accounts for JimdoBUSINESS Users (now 20)
08 May 2011 – Smartphone-friendly templates now available by default
30 Mar 2011 – General update: note added "e-Commerce"
18 Jan 2011 – General update: PRO support could be a little faster, so we took away one star. BUSINESS support is not affected.
Last updated: 23 Aug 2017 | Robert Brandl
Your questions: