Squarespace Review – The Blogging Champ
You can say what you want, but Squarespace's homepage is a visually impressive masterpiece. Among all website builders we've tested, hardly any other company understands how to stage its product with such perfection. Everything looks cool, fresh and impeccable. Let's find out if the website builder follows suit.
Squarespace's latest version 7 introduces some new features like a Cover Page Builder, G Suite and Getty Images. However, the most important aspect is the editor's usability. Now it's possible to edit content live, without switching back and forth between the site manager and preview mode. We're big fans of inline editing as it makes things not only less abstract but also faster.
Squarespace positions themselves as THE website builder for blogs, portfolio sites, and online stores. This review will give you an overview of the main aspects of the revised version.
Test drive Squarespace 14-days for free.
Templates and Designs: Squarespace is a pretty sophisticated product that offers great-looking templates that are optimized for mobile devices (responsive web design). But do keep in mind that the template quality can vary, as it relies heavily on the images used. If you replace the ones they provide, your website's look will be completely different.
SEO: Squarespace offers everything you need to get found in search engines (eg. custom page titles and URLs, descriptions texts and 301 redirects).
Blogging: their blogging capabilities are second only to WordPress. You can even host your own podcast on Squarespace's platform.
The website editor: although they've improved the editor's usability, working with it is still a rather dull experience. For one thing, it's not quite as easy to use as Weebly and Jimdo but that's due, in part, to a wider feature range; the other drawback is the convoluted interface, which looks gray and drab.
Pricing: $12 per month for a website with only 20 pages just doesn't feel right. Pretty much all their competition let you create unlimited pages. Your 21st page will increase the price to $18. Also their e-commerce plans seem far too expensive: at $26 and $40, it's hard to find a reason not to use a dedicated online store solution such as Shopify.
Only one sub-navigation level: Squarespace is not suitable for larger websites that require a deep menu hierarchy.
Page Speed: their templates score low ratings by Google's Page Speed Tool, which could lead to a poor user experience on smartphones and possibly harm your search engine rankings.
No Preview Mode: all site edits you make are visible to the public immediately. This can be a bit inconvenient when doing larger updates.
| Criterion | Rating | Comment |
| --- | --- | --- |
| Ease of use | | The user interface has a minimalistic design. Unfortunately, it's not always very self-explanatory. Content can be edited on the fly. When you resize the window, you see directly how it looks on your mobile devices. |
| Choice and flexibility of design (templates) | | The designs look both artistic and modern. The Cover Page builder let's you to create a single page design. Pros can control the HTML/ CSS in the "Professional Plan" (Developer Platform). |
| Advertisement-free | yes | All plans are ad-free. |
| Languages | | Editor supports any language, but interface is English only. Does not provide a good way to create multilingual websites. |
| Features | | |
| Your own domain name (e.g. .com or .net) | yes | Yearly and bi-yearly subscriptions include a domain name for 1 year, after that prices start at $20 annually (depending on the ending). Domain registrars like Namecheap offer much better deals. Existing domains can be also pointed to Squarespace websites. |
| Depth of navigation | | One level below the main navigation. You can set it up using 'folders' (as they call it). Some templates feature a secondary navigation underneath the main navigation. |
| Widgets (small tools to add extra functionality) | | Nice selection of add-on features: gallery widgets, social media widgets (Facebook, Twitter, Instagram, etc.), tools for restaurants and much more. Doesn't feature an app store for 3rd party widgets. |
| Monetization | yes | Using Google AdSense or other banner ads. |
| E-Commerce | | Included in every plan (with limitations). You can easily integrate a shopping cart into your blog. Read more in our detailed e-commerce review. What's great is that a free SSL certificate is part of every plan (also non-ecommerce packages). |
| Search Engine Optimization (SEO) | | If you are looking to create regular pages its SEO is good enough. However, there are serious SEO limitations for blog posts and product pages. |
| Blog | | The only real alternative to a WordPress blog; has all the usual blogging features (commenting, trackbacks) and more (geolocation tags, reblogging). If you already have a blog on WordPress, Tumblr, Posterous or Blogger, you can even import it. You can even host your own podcast on Squarespace, complete with RSS feed and iTunes tagging. |
| Visitor statistics | | The inbuilt visitor analytics tool shows you some key stats. You can check your stats also with the "Squarespace Metrics App." For more details, you can set up Google Analytics. |
| Contact form | yes | Fully customizable contact form builder with lots of field options. |
| Password protection | yes | You can either protect the entire site or individual pages. More details here. |
| Newsletter tool | no | They allow you to connect an existing Mailchimp account. This way you can collect your customers email addresses on the checkout page. |
| Add HTML code | yes | Enables other widgets and tools to be added. |
| Storage space | Unlimited | No bandwidth and storage limit. |
| Backups & Restore | no | Squarespace does not provide a backup feature and restoring your content isn't possible. They recommend (and we are not kidding) copying and pasting your content into a Google Doc. |
| Support | yes | 24/7 ticket system, live chat - The knowledge base is comprehensive. Their support is top of its class. Video tutorials are also available. |
| Fun Factor | | Figuring out how the system works can take a while in the beginning but it's well worth it. |
| Overall Rating | 4.3/5 | Although not quite as easy to use as other website builders, it sets new standards for blogging, e-commerce and customization. |
Conclusion
The rather complicated editing interface used to be a major sticking point in the past. Fortunately, this has been improved in version 7. Although still not perfect, the site builder now allows for real point and click interaction. This speeds up your website building efforts and lets you avoid unpleasant surprises.
However, sometimes it feels a little too minimalistic, which can require a decent amount of trial and error until you are completely familiar with the editor. Some of the page elements are limited to an icon and don't reveal their purpose immediately. Luckily, Squarespace provides many great tutorials that explain all the tools.
Each yearly plan contains a domain name, and even the "Personal" plan allows you to sell one product. The rather pricey "Business" plan removes the page limit and gives pros more control over their website.
Our tests have shown that Squarespace is a reliable website builder; however, its page speed needs improvement. Squarespace is not perfect, but we agree with their slogan: "Better websites for all." If you are looking for alternatives, you may also want to check out Wix.com. Like Squarespace, they are very focussed on design aesthetics and generally a bit more flexible than Squarespace.
Is Squarespace the right choice for you?
you're a blogger and looking for something easier than WordPress
you are a podcaster and need a platform for easy publishing
you want to create a stylish website
you need customer support 24/7
you are looking for a great cost-/performance ratio
you need an easy website editor
Page speed is very important for you
Squarespace Example Sites
It will require a lot of time to get to know the system, but when you are serious that won't be an issue.
Mark
Templates are too inflexible
Derby
Alternatives to Squarespace
Weebly
See review
Jimdo
See review
Wix
See review
A few comments:
Weebly is pleasantly easy to use and features some great designs. They are maybe not quite as stylish as Squarespace's but far easier to customize. A big advantage is that all of their plans feature unlimited pages.
Jimdo is a very solid product that offers an attractive price. It's an all-in-one package that includes a domain name and email address. Although their blog and online store don't measure up to Squarespace, we find their website editor more intuitive overall.
Wix's core strength is its great looking templates that offer pixel-perfect customization options. With their unique App Market you can easily add third party applications to your website. Unfortunately Wix's SEO capabilities is not quite as advanced.
Is Squarespace secure? How much traffic does it support?
Squarespace uses SSL encryption in editing mode – a feature that sets it apart from most other tools. Both their Unlimited and Business plans support unlimited traffic and can handle tremendous amounts of concurrent website visitors. If you have used WordPress in the past you will probably appreciate this.
Will my Squarespace site work on an iPad or iPhone?
Yes, their layouts are responsive and will adapt to the screensize of your visitor's device. They also offer mobile apps for the iPhone, iPad and Android that allow you to edit your site on the go.
Does Squarespace include email accounts?
No, you will have to set it up elsewhere. They recommend Google Apps. Alternatively you can purchase your domain name through a registrar like Go Daddy or Namecheap and let email run through them.
Can I create a members-only area?
You can set up password-protected pages on your website, although only a password is used (without a login name). More details.
Does Squarespace support 301 redirects?
Yes, you can set up URL mapping. If you are moving your site over from a previous system, you can redirect old URLs that would otherwise lead to an error page.
Can I use Disqus for comments on my blog?
Yes, Squarespace has a direct integration with Disqus.
Can I import my existing website or blog into Squarespace?
Yes, Squarespace supports imports from. WordPress, Tumblr, Squarespace 6, Blogger, Shopify, and Big Cartel. Squarespace also allows you to export your website.
Is there a discount available through Squarespace?
Absolutely! Save 10% using Squarespace's official discount voucher: get it here.
Squarespace Uptime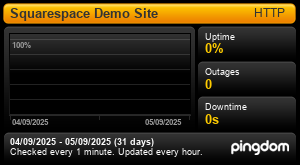 Here you can see the uptime of our Squarespace demo website within the last 30 days. The best result would be 100%. The uptime should ideally be above 99.90%. These numbers are updated in real-time.
Squarespace Response Time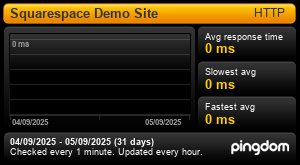 That's the time it takes to receive a response from Squarespace's servers. A good value would be 200-500 milliseconds. 800ms and more could feel slow to your visitors. Squarespace's servers are located in the US.
Squarespace Page Speed Test
| Squarespace | Desktop | Mobile | User Experience (mobile) |
| --- | --- | --- | --- |
| Template 1 | 75 | 46 | 100 |
| Template 2 | 71 | 47 | 97 |
| Template 3 | 55 | 37 | 99 |
| Average Rating | 67 | 43.33 | 99 |
As loading time has become a ranking factor for Google, page speed is now more important than ever before. Squarespace's templates are responsive, which is great, but the downside is very poor loading speeds, in particular on mobile devices.
15 Feb 2017 – Prices have increased.
17 Jan 2017 – We've added the Backup & Restore category in the table
04 Jan 2017 – Update in cons (preview mode)
28 Oct 2016 – Free SSL certificates available.
08 Sep 2016 – Squarespace new SEO rating is 4
18 Jul 2016 – Squarespace now overall rating is 4.2
19 Apr 2016 – Squarespace now also sells (expensive) domain names
03 Mar 2016 – Downgrade in Widget rating
03 Feb 2016 – New use case section added
22 Dec 2015 – Added pros and cons, uptime and response time, page speed results and some pricing updates.
11 Sep 2015 – User reviews section added
04 May 2015 – The "Personal" plan has no bandwidth and storage limit any longer
02 Dec 2014 – New video review added
21 Nov 2014 – Overall review update (V7), New rating 4.4 Stars (before 4.1)
28 Mai 2014 – Information on podcast hosting added.
31 Jan 2014 – Online store is available in all three plans.
20 Aug 2013 – The online store is now also available in the UK.
30 Mar 2013 – Video review of the online store added.
13 Feb 2013 – We added information about password protection.
20 Feb 2013 – Squarespace adds a shopping cart with their Business plan.
10 Oct 2012 – We've created a list of shopping cart options for Squarespace.
06 Aug 2012 – Initial tests of version 6.
Last updated: 15 Feb 2017 | Robert Brandl
Your questions: